Japan's first! Announcement of the start of recruitment for the first project of participatory real estate crowdfunding
News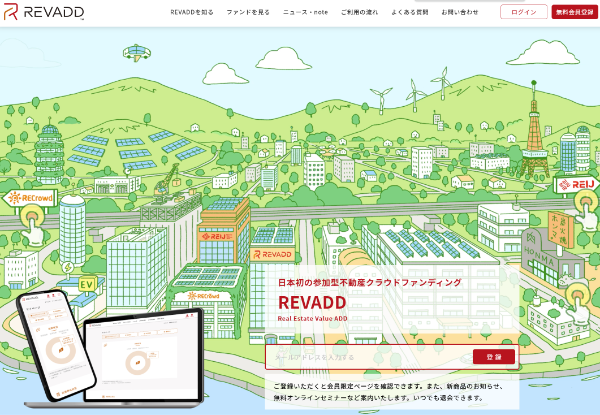 We have started the real estate investment crowdfunding "REVADD" service based on the Real Estate Specified Joint Business Act (hereinafter referred to as "non-special law"), opened a dedicated site and started soliciting the first project.
"REVADD" is an abbreviation for Real Estate Value ADD, which means adding new value to real estate.


■ Participatory features
1. Disclose all processes from property selection, acquisition, operation/management, and sale
By disclosing all processes, it is possible to check the entire investment process.
2. Disclose all cash flows including income and expenses
It is possible to judge the cash flow as if you purchased the property yourself.
3. Disclose all progress of projects, such as renovation status
You can feel how the property is reborn with added value through photos and videos.
4. Property tours are possible
As Japan's first participation type crowdfunding, if you wish to visit the property, we will guide you to the site.
5. Prepare a bulletin board for members
Opinions can be exchanged on renovation proposals proposed by our company and naming rights for new real estate.
6. Granting preferential negotiation rights for real estate
After redemption of the fund, the REVADD® member with the largest investment will be granted the right to purchase real estate selected by a real estate appraiser.It is possible to obtain a property that you like while participating in crowdfunding.In the 1st fund, from January to May 23, we will create purchase opportunities by granting negotiation rights to preferentially purchase the target real estate of the 1st fund in descending order of preferred investment amount.If the buyer is absent, we aim to sell it in the market.


■Why do we start real estate crowdfunding from a participatory approach?

We view the real estate investment industry as follows.
<Past real estate investment industry>
In the real estate investment industry, there are still many companies that focus on their own profit pursuit.
There is a case where a real estate appraiser is purposely made to prepare a high appraisal report, and based on this evaluation, investors are solicited for investment and sold at a high price to obtain an unfair profit.
There are unreliable real estate companies, and even if you want to invest in real estate, you can't.
Real estate crowdfunding firms have avoided dialogue with investors in favor of quiet investors.They also hid information that was unfavorable to them.
Until now, crowdfunding has been a one-way service where once you invest in a project, all you have to do is wait for distributions and redemption of the fund (meaning maturity).
Also, in order to attract customers for real estate crowdfunding, there are real estate companies that attract attention with Amazon gift certificates, dare to claim high yields, and then sell investment condominiums and make profits from investment condominiums.
In such an industry, our company is aiming for participatory crowdfunding, such as disclosing information so that investors can make their own decisions and express their opinions on real estate renovations.


■ Future prospects
Of the 2,100 trillion yen in personal financial assets, cash and deposits remain at about 1,100 trillion yen.The government has also decided on a plan for doubling asset income and fostering startups (emerging companies) at the "New Capitalism Realization Conference". Together with those who are just starting out, we will contribute to the expansion of financial asset income through real estate crowdfunding.